Event Details
Volunteer Living Shoreline Reef & Marsh Monitoring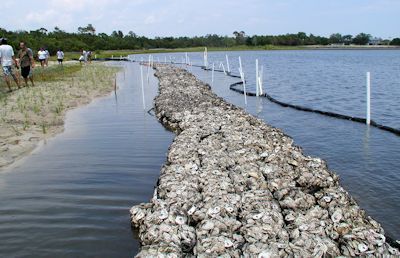 When:
October 14, 2016
10:00 AM to 2:00 PM
Location:
Waterway Park
1504 East Yacht Drive
Oak Island, NC 28465

Description:
Volunteer Living Shoreline Reef & Marsh Monitoring at the Morris Landing Clean Water Preserve in Holly Ridge, NC, helps North Carolina Coastal Federation staff to assess the development of shoreline oyster reef and salt marsh restoration projects. No special skills or knowledge required, and volunteers will receive the basic training needed. Work includes estimating how much and what kind of vegetation is growing in the restored area and using survey equipment to measure the shoreline profile changes. Oyster monitoring includes opening up shell bags from the reef, measuring and counting oysters and identifying other organisms.
More Info:
www.nccoast.org/event/volunteer-reef-monitoring-1/
Contact: Jessica Gray
Phone: (910) 509-2838
Email: