Event Details
Mr. Roberts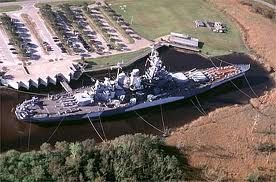 When:
July 13, 2017 to July 16, 2017
8:00 PM
Location:
Battleship North Carolina
#1 Battleship Road
Wilmington, NC 28401
Website: www.battleshipnc.com

Admission:
$15.00 to $30.00
Description:
Thalian Association and the Battleship North Carolina present Mr. Roberts, a patriotic drama to be performed on the fantail of the great vessel. The play is set aboard a US cargo ship in the Pacific Ocean during World War II. The title character will do anything to leave the boredom of his daily chores to join in the "action," but the captain is a bit of a tyrant, and isn't willing to sign Roberts' transfer requests. The 1955 film of the same name stars Henry Fonda as Lieutenant Roberts and James Cagney as Lt. Commander Morton and earned an Academy Award nominee for Best Picture (Jack Lemmon received an Oscar for Best Supporting Actor).
More Info:
www.thalian.org
Phone: (910) 251-5797
Email: