Event Details
Victorian Mourning Exhibit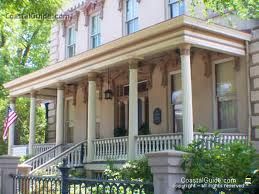 When:
October 16, 2017 to October 31, 2017
Location:
Latimer House Museum
126 South Third Street
Wilmington, NC 28401
Website: www.lcfhs.org

Admission:
$6.00 to $12.00
Description:
The Lower Cape Fear Historical Society presents a Victorian Mourning Exhibit at the Latimer House Museum in downtown Wilmington, NC. The interactive exhibit on mourning during the Victorian Era includes a circa 1850 mourning dress of Elizabeth Savage Latimer, hair jewelry, and post-mortem photography. In addition, the Latimer House is decorated for a Victorian Wake, complete with a reproduction casket, flowers, and black crepe covering the house's many mirrors. TOUR SCHEDULE: Monday through Saturday departing on the hours between 10am and 3pm; Thursday, Oct. 26 at 7pm, 7:30pm, 8pm, and 8:30pm and Saturday, Oct. 28 at 7pm, 7:30pm, 8pm, and 8:30pm. Victorian All Hollows Eve Celebration: Friday, Oct. 27 from 7-9pm.
More Info:
Phone: (910) 762-0492
Email: