Event Details
Art Exhibit: Ocean and Earth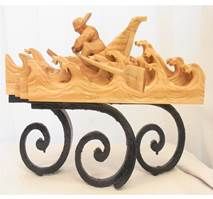 When:
July 31, 2017 to September 8, 2017
Location:
WHQR Gallery
254 North Front Street, #300
Wilmington, NC 28401
Website: www.whqr.org

Description:
The WHQR Gallery in downtown Wilmington, NC, hosts Ocean and Earth, Work by Mark Bannerman and Alex Walker. The artists find common ground in breathing new life into objects, either natural or man made, which have outlived their original purpose or form. In their hands, these castaways and debris become foundation and/or elaboration for sculptures and paintings representing life in, on, and above the earth and her oceans. HOURS: Monday through Friday, 10am to 4pm.
More Info:
Phone: (910) 343-1640
Email: