Event Details
Hidden Battleship Tour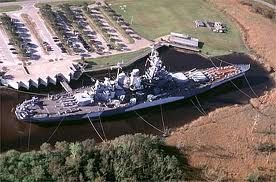 When:
May 16, 2020
12:00 PM to 4:30 PM
Location:
Battleship North Carolina
#1 Battleship Road
Wilmington, NC 28401
Website: www.battleshipnc.com

Admission:
$45.00 to $50.00
Description:
Hidden Battleship at the Battleship North Carolina in Wilmington features a four-hour behind-the-scenes tour of un-restored areas of the vessel. Guests explore the bow (officers' country, boatswain locker), third deck (Radio II, brig, after gyro, storage rooms, ammunition handling, Engineer's office), Engine Room #1, superstructure (Captain's cabin, armored conning tower), aft diesel, the Marine Compartment, and climb inside the fire control tower to the top of the ship. The program is for adults only (ages 16 and up) and limited to 40 participants. Registration and payment are due Thursday before the event.
More Info:
Contact: Shelly Robinson
Phone: (910) 251-5797
Email: