Event Details
Firepower Program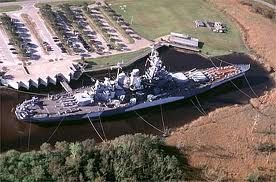 When:
March 7, 2020
8:15 AM to 5:00 PM
Location:
Battleship North Carolina
#1 Battleship Road
Wilmington, NC 28401
Website: www.battleshipnc.com

Admission:
$85.00 to $90.00
Description:
The Firepower Program at the Battleship North Carolina in Wilmington features a chance to explore the vessel while learning about various types of fire control equipment and how main and secondary battery plotting rooms and the combat information center operated. During the lunch break LT COL Ken Rittenmeyer, USAF (Ret.), provides an overview of the ship's mission and weapon systems. The afternoon session explores the Battleship's 16-inch and 5-inch guns from the gun houses to the ammunition loading compartments; the 40mm and 20mm guns, and the weapons that they replaced (1.10 and 50 caliber guns). The programs is for adults only (ages 16 and up) and limited to 24 participants.
More Info:
Contact: Shelly Robinson
Phone: (910) 251-5797
Email: